Dica do Dia : Como receber dinheiro de volta ao comprar seus produtos e roupas favoritas!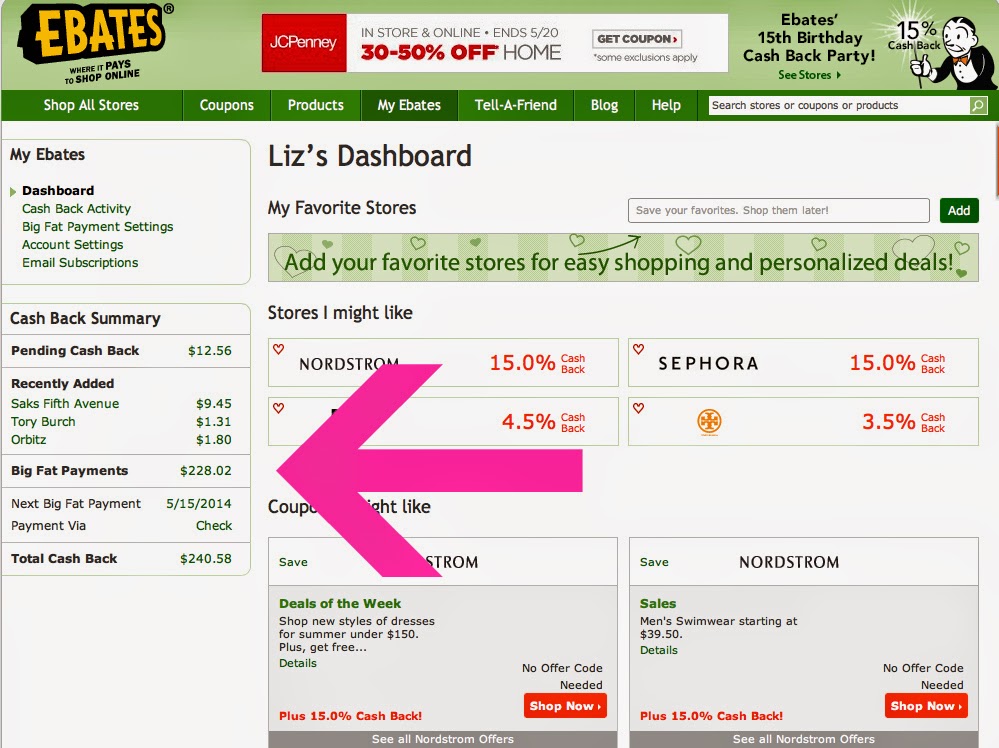 Hi loves! I have received couple emails lately from EBATE and today I saw that Ebates is offering %15 cash back on a handful of stores and so I had to run and check to see what EBATES was all about and after I found out I promptly subscribed and also check if Sephora was a part of it, and it is! Even better, so is Nordstrom!! I am a shopaholic and I wish I had read signed up before 🙁 but lesson learned :D. From now on I'll start shopping through my account on Ebates once I receive my first chack I'll post on INSTAGRAM and here as well but that might take a little while since I'll have to wait for the stores return policy time etc.
What is Ebates?
For those that are not familiar with Ebates it is a website that you go to and it redirects your to your desired store and pays you a percentage of your final dollar spent at that store.
Example
Ebates is currently offering 15% cash back when you shop at Sephora, so all you do is log into your Ebates account (create an account  →  here),  find 'Sephora' by typing it in the Ebates search bar, then click on it and it will re-derict you to the normal Sephora website that you are used to shopping at and shop as you normally would.
Ebates keeps track of your purchase and assigns it a "ticket number". After 30 days have gone by (or however long the return policy of the store is) Ebates will deposit the money you earned on that transaction.
How Do You Get Paid?
You can opt to get paid one of two ways, by having a check mailed (what I do) or direct deposit into your bank account.  Ebates cuts checks out every 60 days.
 As I mentioned above I just subscribed to EBATES… So I don't have any experience yet
However I also went ahead and did some research to see what others has to say l about their experience with Ebates cash back  and I found great reviews even from bloggers that has earn a good amount of cash back  by shopping online. Its important that you remember to log in into you EBATES account first and from there you'll be redirected to the desired stores website.  It's pretty easy to forget to log in on Ebates before purchasing something so my advice is to "BOOKMARK IT". Look like they keep a track from your account so in case they forget to send you the check for certain purchase just contact the customer support and they will fix that for you.  Pretty good huh??  Sign Up → HERE

Olá amores. A dica de hoje é top No final eu dou uma dica para quem nåo mora nos Estados Unidos… Já pensou em receber uma graninha de volta das compra que voçê fez online nas suas lojas favoritas?? Pois é, esse tal de EBATES é pra isso.
Bom eu venho recebendo emails deles mas sempre deleto sem ler… Acontece  que hoje algo me chamou atenção O email dizia: RECEBA 15% de volta nas compras relizadas com eles e logo em seguida uma lista de lojas  dai já me interessei , olhei a lista das lojas participantes e li sobre o site e como tudo funcionava. Logo em seguida eu me inscrevi e tambem fiz uma pesquisa pra ver se tinha resenhas sobre essa oferta que parecia ter caîdo do céu e não é que eu achei! Inclusive de uma blogueira de maquiagem que curto muito , ela explica lá que já é o terceiro chequinho que ela recebe do EBATES e eles vem gordinhos tipo com $150, $200 e ate $280 dolares! Claro que é porque ela compra bastatnte mas  15% pode ser uma boa graninha de volta.
O que é Ebates?
É Um site onde você se increve e de lá voçê será direcionada para os sites desejados e no final das suas comprinhas o Ebates te pagará uma certa porcentagem em coma do valor gasto em dolar.
Exemplo:
Atualemente o Ebate está oferecendo 15% de retorno (o que chamamos de cashback ) nas compras realizadas, então digamos que voçê compra na Sephora, tudo que voçê precisa fazer é log in ( entrar na sua conta do EBATE ) CRIE UMA CONTA  →  AQUI .  Daí procure pela Sephora ou outra loja que desejar no campo " Search" (Procurarar)  clica no link e voçê será direcionada para o site normal da  Loja escolhida e então voçcê vai fazer colocar os produtos no carrinho normalmnte. Se voçê já comprou online será tudo é da mesma forma a diferença é que como voçê entrou pelo ebates e foi redirecionada eles registram o codigo da sua conta e assim conta ponto pra voçê (alias dindin) Depois de 30 dias que normalmente é o periodo que uma loja aceita devolução e caso voçê não tenha devolvido as compras entra como credito ªdinheiro que voçê receberá de volta)
Como eles te pagam?
Voçê pode escolher entre duas opções, uma é receber cheque nominal no seu endereço ou ter o valor depositado diretamente na sua conta de banco  (demora cerca de 60 dias para o check / deposito chegar pois eles esperam passar prazo de troca/ devolução das lojas e tambem caso voçê faça mais comprinhas) Eles tamb´m deposotam atraves do Paypal (pode demorar até 3 meses pelo Paypal. (♦♦)
♦♦  Aqui pode ser um probleminha para quem mora no brasil e só veio turistar por aqui… Mas se voçê vem a passeio de vez em quando e tem algum parente ou amigo que mora aqui de repente voçê poderia se increver no nome daquela pessoa (Lembre-se é nescessário que tenham conta no banco aqui nos Estados Unidos pois os cheque vem nominal) Como eles também pode te mandar atravez do Paypal de repente essa opçãi abre uma brecha para voçê receber na sua conta de banco no Brasil já que o Paypal tem no mundo inteiro…
Como eu comentei antes eu acabei de me inscrever e não tenho ainda experiencia com eles, mas na pesquisa que fiz encotrei algumas pessoas que já usam o ebates a quase um ano e søø tem coisa boa pra falar. O importante é não esqucer de entrar na sua conta antes de ir para um site de uma loja assim voçê não perde o dinheiro…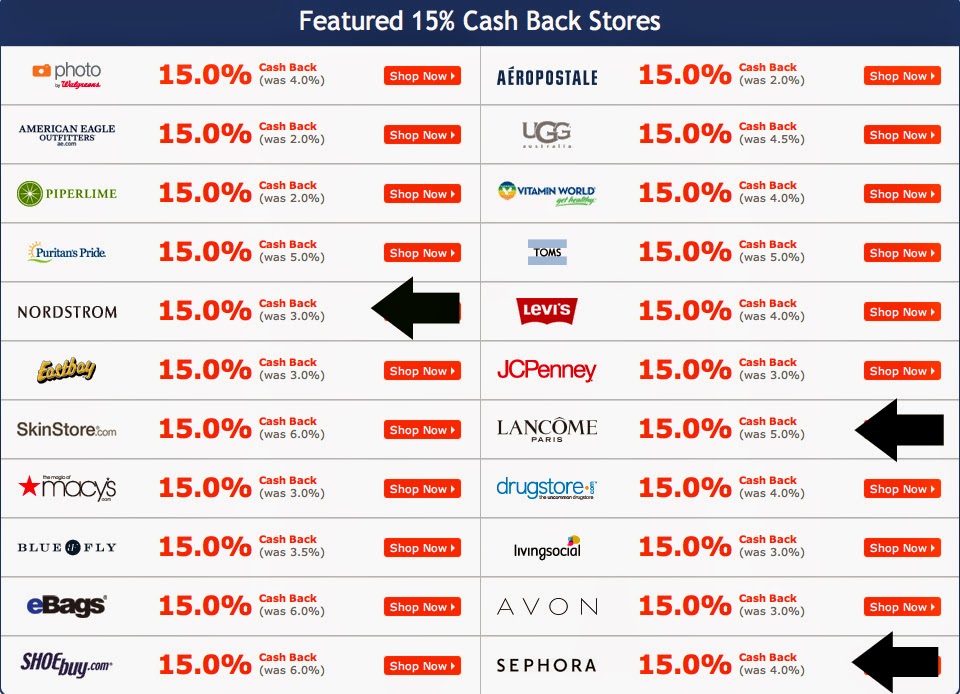 Right now Ebates is celebrating their 15 year anniversary so they are offering %15 cash back in all of the store you see in the pic above! I am the most excited over the ones with arrows because I shop there a lot anyways. I plan on picking up a few Tom Ford and Channel Cosmetics from Nordstrom since those brands rarely go on sale….actually….they NEVER do! So at least I can earn cash back, which is essentially like getting a 15% discount! It also shoes, handbags, apparel etc
xxxxxxxx
Atualmente o EBATES está comemorando seus 15 aninhos e é por isso que eles estão oferescendo 15% de "cash back" dinheiro de volta. Estou amando e quero aproveitar esta oferta !! Acima marquei com setas as lojas que mais amo. Estou querendo pegar alguns produtos de marcas especificas como Chanel, L'âcome e Tom Ford da loja Nordstrom pois é rarissimo que eles entrem em promocão, alias nuncam entram…Ao menos recebendo on dindin de volta é como se os produtos estivessem com 15% de desconto. Relogios, sapatos, bolsas e por ai vai tudo que estiver nas lojas afiliadas conta como dindin de volta 🙂
Ai está o link se voçê quiser criar uma conta…
Increva-se aqui  chame as amigas …
Thank you so much for reading — Obrigada por visitar o blog
XO

, H