Faça das roupas antigas um look novo e moderno  – No Dumbo Park -Brooklyn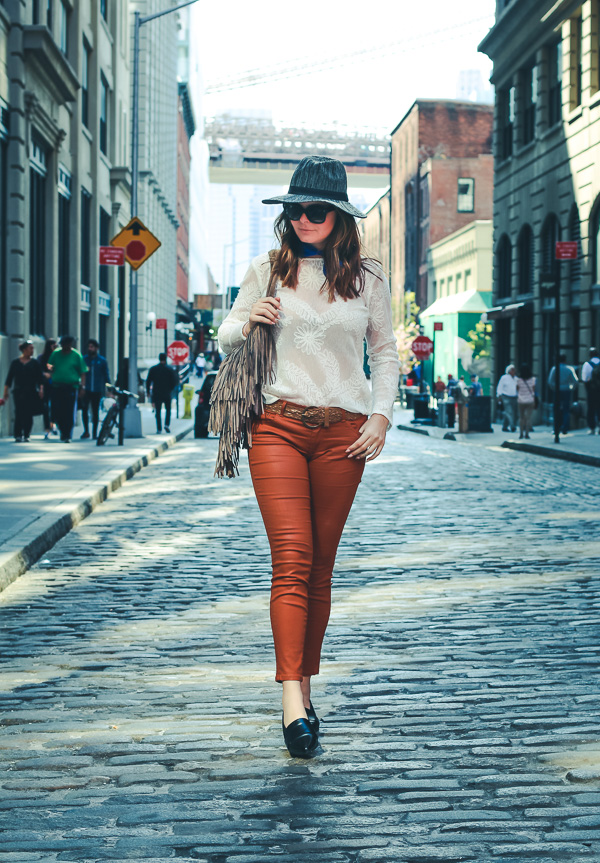 Hey loves! Clap your hands because its Friday 🙂 I haven't been to Dumbo Park during day time for years! It such a nice area and specially when the weather is cooperating is a must have place to go in new York. It not only has a good vie but also great view of Manhattan skyline, the river , the park I just love everything about that environment. This outfit I am wearing is from a while ago and this pants its on repeat (actually I had created many posts wearing this Zara pants lol. I love to create different looks from existing clothing and make what is old become fashionable . The lace top and fringe bag is been around in my closet for a while as well the waxed Zara pants. I created a casual neutral look by adding a straw hat and my new loafers flats from Forever 21 and to upgrade the style a bandana on my neck and bingo the look turned into boho classic and the fact that the top has a long sleeves doesn't make me melt because is made of a  very light embroidery lace. Lets take a look on details?

Oi amores graças a Deus a tão esperada Sexta-Feira chegou! O look de hoje foi fotografado durante um Domingo que passei no DownTown Brooklyn na vizinhança chamada DUMBO. As ruas são de paralelepipedo e fica bem proximo a beira do rio onde temos uma vista incrivel de Downtown Manhattan. Fazia muito tempo que eu ñao iria por aquelas bandas e de poucos anos pra cá aquela area vem virando destino garatido para os Nova-Iorquinos e turistas. A maioria da blogueiras vão fazer fotos por lá também. A Area tem varios restaurantes e cafés portanto  voçê deve colocar na sua agenda se vier a Nova Iorque. O look que estou vestindo é básico e moderno com um toque Boho, manti as cores neutras e tanto a calça como o top da zara e a bolsa de franja (da Riachuelo) são parceiros de velhos carnavais. Eu gosto de misturar o que já temho  com algo o novo e fazer com que o básico se adapte a moda atual com isso adicionei chapéu, o lencinho no pescoço que é super tendência e os sapatos Loafers que são aqueles charmosos e bem comfortaveils inspirado nos modelos masculinos. Aproveitamos nosso domingo , passamos em um café famoso da area, depois tomei sorvete ,caminhamos e por ultimo sentamos para comer e tomar uma cervejinha com o por-do-sol… Vamaos aos detalhes?
Pictures take by Michale Fiorini
My Outfit:
Pants/Calça: Zara (similar here, here) // Top/Blusa: Zara (similar here, here) // Sunglasses/ óculos: Celine (similar here, here) // Loafers/Sapatos: Forever 21 (similars here, Chic version  here)
Thank you so much for reading — Obrigada pela visita
XO

, H