Classica Jeans Levis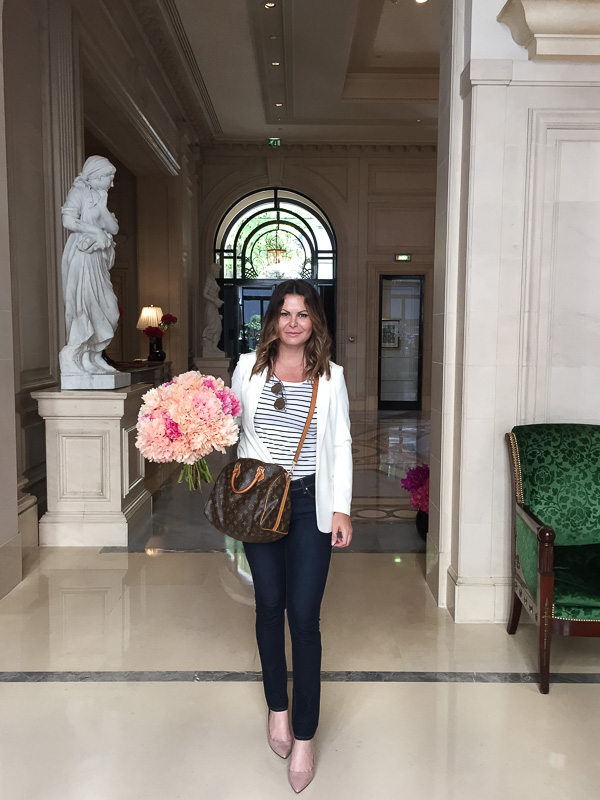 The Four Seasons Hotel George V

Hey everyone!
One of the research I did when I visited Paris for the first time was: What to wear in Paris? I learned the Neutral was key. Even if you are fashion-oriented, if you don't have time to go over some details my advice to you is to pack your most comfortable clothes from home but in a stylish way and avoid to scream: " I am tourist"lol. A classic skinny Jeans is essesncil in your luggage. We know Parisians are renowned for their style and fashion forwardness. Five years ago, we never saw anyone in Paris wearing jeans except teenagers. Today, denim is a growing Paris trend. Jeans are everywhere – upscale restaurants have even lessened their dress codes to admit designer jean clad customers. I tossed a Levis dark, slim fit "skinny jeans" in my suitcase and that was a key piece from day to night. Remember that we're talking about Paris, and the jeans you see on Parisians contain certain stylistic elements.
Check the artistic director https://instagram.com/jeffleatham/

Oi amores!
Uma pergunta que todas nós fazemos é o que vestir em Paris. As palavras chaves serão: manter o classico e as coires neutras e nõa tem como dar errado. Mesmo que voçê seja uma fashionista de carteirinha ou se nõa tem tempo de criar looks para sua viagem meu conselho é que voçê separe o que há de comfortável e classico no seu guarda roupas. Adicione óculos de sol e lencinhos no seu percoço e já vai dar um ar la Parisienne. Evite os lookscoloridos e gritantes "eu sou turista" e não leve calçado para usar em Paris pela primeira vez. Além de estilo, voçê quer comforto acima de tudo! Nós sabemos que os Pariseinses qua quando o assunto é moda e estilo os Parisienses dão um show, A alguns anos atraz ninguem em Paris usava jeans, a não ser os adolescentes. Hoje em dia o jeasn ganhou seu espaço e vem ocupando seu espaço na moda parisience e agora o Jeans está em todas as partes, seja em restaurantes requintados, ou lounges e está sendo aceito em certos locais onde antes eram proibidos. A calça skinny de lavagem escura é um grande clássico e deixa o look mais sofisticado e é exatamente o estilo de jeans que os Parisienses adotaram. Eu levei uma das minhas calcas preferidas da marca Levis e foi uma peça-chave na minha bagagem pois pude fazer looks tanto para o dia quanto para a noite mantendo estilo classico como eles gostam. Vamos aos detalhes?
Four Seasons Flowers by the artistic director Jeff Leatham / Instagram https://instagram.com/jeffleatham/
 Outfit:
Levis Skinny Jeans /Top:  H&M / Sunglasses: Dior So real / Bag: Louis Vuitton / Shoes: Aldo
Thank you for reading — Obrigada pela visita
XO

, H