Dando uma repaginada no Jeans
Hi everyone! I am such a denim lover lol. I have sooo many different types of outfits but I definitely feel confident and comfortable wearing denim. Today I am showing a DIY on how I to revamp your old jeans. If you took a look on my latest posts you probably saw that I have been wearing jeans constantly.  I bought this pair of boyfriend jeans on a second hand store in NYC. It belonged to Danielle Berestein from WeWoreWhat.com when she used to wear my size  haha.  So I decided to customize and give my second hand old jeans a modern look.
Distressing can take too long specially when tweezing out the blue threads So I spent some time focusing on the upper right leg where I had most of my work done. At first I cut parallel slices on my denim and then remove the blue threads to just leave the white threads. Also I  did some irregular cuts with SCISSORS  by the knees and I also rubbed the old jeans with SANDPAPER to soften the top layer of threads. Sand paper gives a worn look and one of the very important steeps  is to wash your jeans after distressing them, it will definitely make you long work looks more natural. Eventually with time the jeans will get more and more distressed 🙂
There are many ways and different tools to create a distressed denim look. I followed some steps on Pinterest.com but unfortunately I didn't take pictures of the step-by-step but I am posting here some images from other bloggers that also costumized their old jeans so you can get inspired, I hope you like it.
MANY WAYS TO DISTRESS YOUR DENIM HERE ON PINTEREST.COM

Olá glamurosa. Meu look de hoje tem jeans novamente. Pois é apesar de ter tantos looks eu me deparo usando jeans constatemente, e esse jeans de hoje foi comprado em uma loja de roupas semi-novas e pertencia a blogueira @Danielleberestein do blog WeWoreWhat. Ela tem emagrecido bastante e algumas peças dela agora cabem em mim kkk.
Bom pra da um UP na calça estilo boyfriend eu resolvi dar uma costumizada através da famosa rasgadinha e  ficou bem stilosa. Existem muitas formas de fazer  o "distressed" e varias ferramentas também. Eu me guiei pelo Pinterest.com  Como eu não estava com a camera  para registrarno dia que fiz decidi usar algumas fotos da net aqui no post para inspiração e vou colocar os links com o passo-a-passo.
rasgar o jeans pode levar um tempinho , pricipalmente quando utilizamos a PINÇA para desfiar, removendo as linhas azuis e deixando apenas as brancas. Então eu me dediquei em fazer mais na parte de cima da perna direitas e na área dos joelhos com a TESOURA fiz cortes diagonais irregulares abrindo bastante para que assim como tempo de uso ela fique muito mais natural. A usei também uma LIXA para amaciar/ afinar  a parte de cima das linhas azuis do jeans, isso ajuda a fazer aquele arrepiadinho e assim como passar do tempo por si só o jeans vai se desgastando.
Dica: A lixa é super importante e mais ainda lavar o jeans depois que voçê terminar seu trabalho. Isso vai ajudar a adquirir um look mais natural. Espero que gostem
CLIQUE NOS LINKS PARA O PASSO-A-PASSO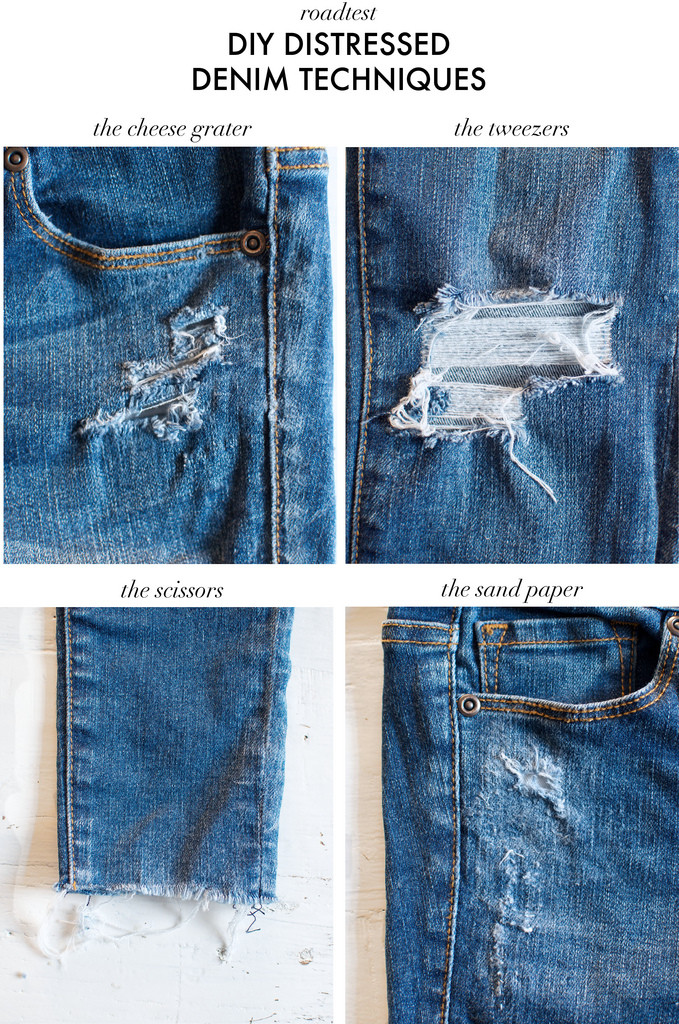 Shop the look:
Distressed Denim: here, here, here // Light Sweater : ( Similar here, here) // Scarf: Zara  // Bag: Michael Kors (here, similar here, here) // Shoes: Maison Valentino : (here, here, cheaper version here ) // Sunglasses: Celine (similar here, here)
Thank you so much for visiting — Obrigada pela visita
XO

, H