Inspiração: Estilo Bohemio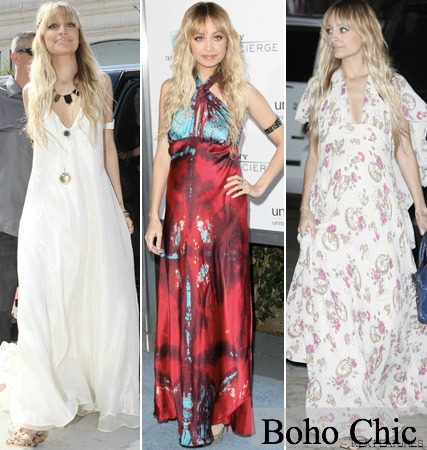 Reproducão: Marie Clare


Boho-chic is a style of female fashion drawing on various bohemian and hippie influences, that, at its height in 2004-5, was associated particularly with actress Sienna Miller and model Kate Moss in the United Kingdom and Mary-Kate and Ashley Olsen in the United States.
Bohemian/Natural – Loose fitting tops, tunics, peasant tops, long flowing skirts, sandals, natural jewelry, beach looks, and an easy, free spirit. It represents some one that want to express herself, its romantic, its authentic. Another great example of this style is Nicole Richie whom wears it well.  Its a style where people dress for themselves, feeling comfortable weather people like it or not.

Quem sabe voçê não gosta? O estilo Bohemio vem conquistando muitos desde 2003 quando surgiu em  Londres. Seu ícone fashion foi a atriz Siena Miller que causou ao se apresentar vestida assim. Outras celebridades que adaptaram ao estilo são a modelo Kate Moss, e as gêmeas Mary-Kate e Ashley Olsen nos Estados Unidos e claro  além delas uma pessoa que adoro e acho que representa este estilo muito bem é a Nicole Richie.
Bohemia é um estilo natural com toque pessoal. E hoje em dia o estilo vem com uma nova leitura fazendo com que as roupas venha com toque mais chic podendo serem usadas no dia a dia ou até no escritório, evitado assim os tops croped de  franjas. No geral o estilo anvolve roupas folgadas, confortaveis,  saias longas e soltas, bijouterias naturais, brincos longos, sandálias, e cabelos ondulados. Representa um estilo livre e romantico. Quem curte esse estilo tende a apreciar as coisas com mais profundidade, veste-se para se mesmo, não importa se sua produção irá agradar ou não. Quem quiser seguir essa tendência deverá acrescentar no guarda-roupa calças com inspiração étnica, blusas com cara de únicas túnicas, saias "floaty" (soltas ao corpo), tops enfeitados, colares e pulseiras prateados e com pedras coloridas, botas estilo cow-boy, sandálias leves e baixas, cintos largo. Ai vão mais alguns exemplos para nossa inspiração.
Spring is here although the cold weather persists in stay. We can start getting inspired for the new season. The Boho Charm channel effortless boho chic in layers of flowy fabrics and clashing prints. If you want to have a hippie-luxe feel add some gold accessories. 
xxxxxxxxxx
O estilo Bohemio cheio de charme. A Primavera chegou apesar do frio nåo persistir em ficar… Mas já Podemos começar a preparar nosso guarda-roupa com tendências da estação. O Boho -chic vem canaliza algo sem esforço, camadas de tecidos leves e esvoassantes com estampas opostas.  Se quizer um estilo luxo-hippie adicione acesseorios dourados ao look. Vejam a Inspiração para esta Primavera: