Look:  Casual para o Dia

Hi everyone. I hope you are having a great week so far. I had a friend visiting me from Brazil and I toke him to Williamsburg (Brooklyn) on Saturday afternoon. We had a lot of fun and stopped somewhere for  drinks and snacks and before heading over to the subway I took asked him to snap some pictures of me so I could share with you guys what I was wearing. A light combination outfit with Pastel Coral denim pants from Zara and white office stretch shirt from Uniclo. I added a floral acrylic necklace and a  mirrored RayBan in green to pop out my casual look. Let's check the details?

Oi Glamoures, espero que a semana de voçês estaja sendo abençoada. Um grande amigo de Recife estava por aqui  e eu o levei até Williamsburg no Brooklyn (um lugar que amo e já falei dele por aqui em outros posts…)  Foi um sábado super divertido onde saimos andando por ali e paramos em dois lugares diferente para tomarmos um drink e comer alguns petiscos. Antes de voltarmos para o Metrô resolvi pedir para ele tirar algumas fotinhas assim eu poderia registrar o look e dividi-lo com voçês. ( Como meu amigo não tinha prática com minha camera as fotos não são das melhores mas valeu o esforço). Tenho usado muito look casual como voçês tem acompanhado e para este dia combinei tons leves, uma calça  Pastel Coral com camisa de botão branca. Acrescentei um colar lindo de frores de acrilico lilas meio transparente e para dar uma cor no visual usei óculos de sol Ray Ban espelhado verde. Vamos ao detalhes?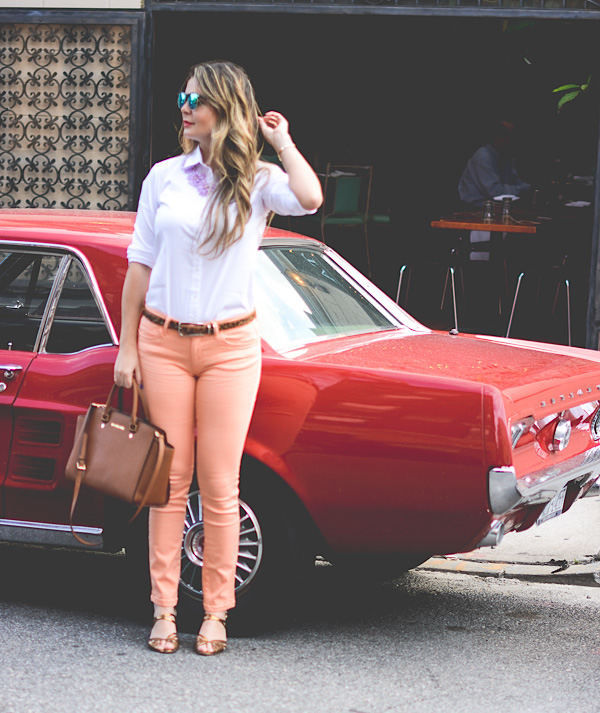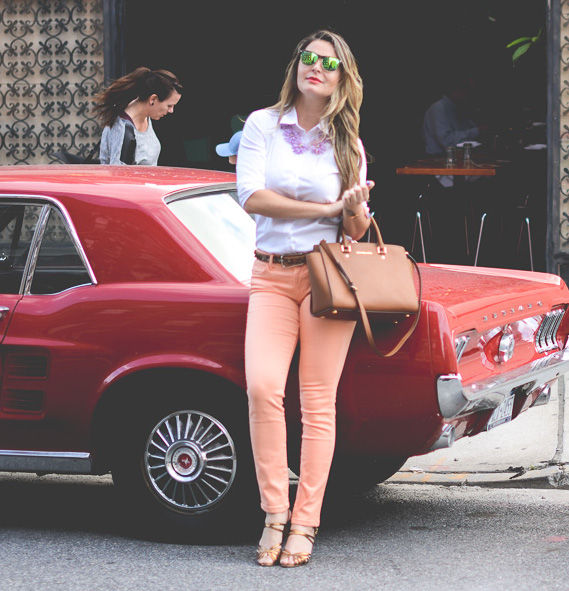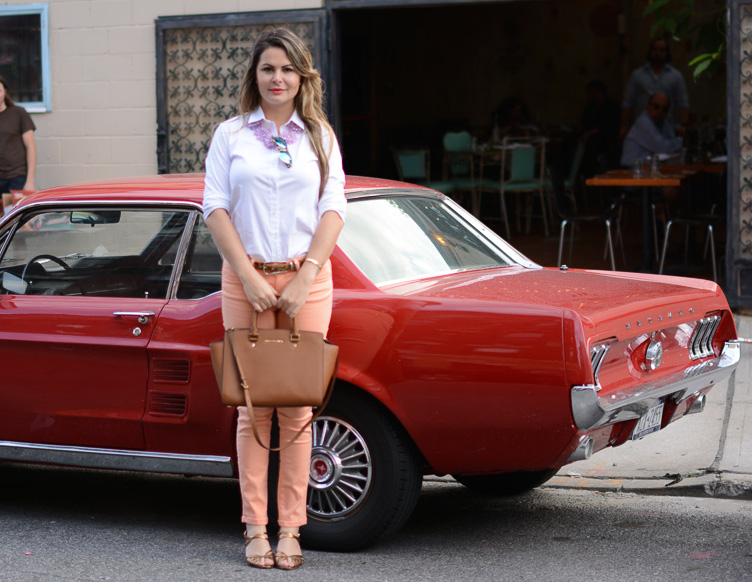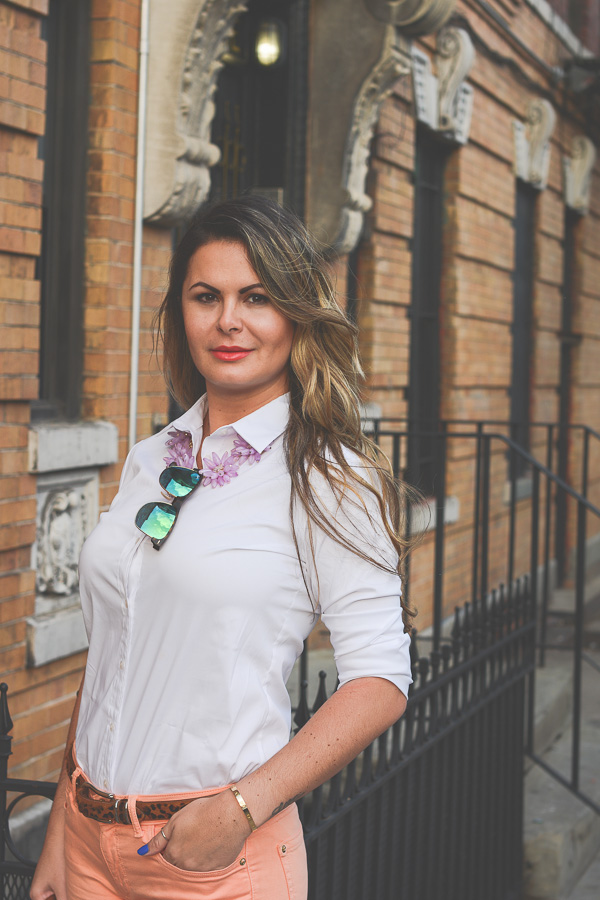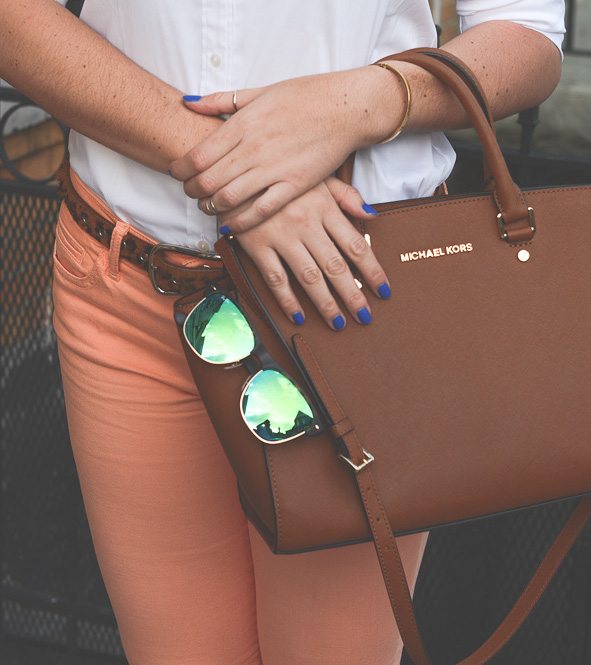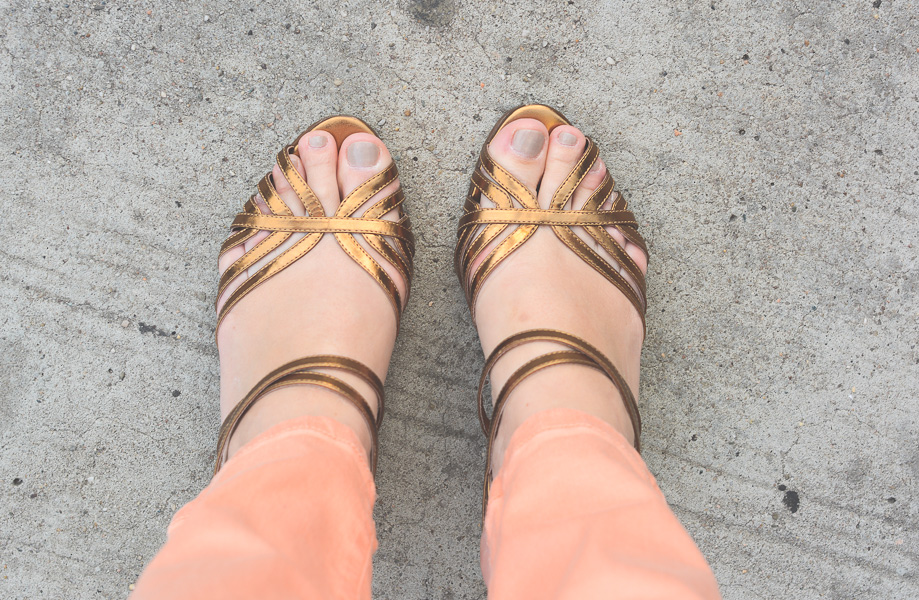 Pants: Zara  similar (here) // White Shirt: Uniclo (here) // Bag: Michael Kors (here) // Sunglasses: Ray Ban // Belt : Ralph Lauren // Shoes: Arezzo
Thank you so much for reading — Obrigada por visitarem o blog
XO,
H