Jantar e Comprinhas em  Williamsbug, NY
Hi everyone! I know I am delayed with my posts… For those that follows me on Instagram knows that I had been to Williamsburg 2 weeks ago right after black Friday. But I still have my outfit to share as well as a tip about a restaurant in the area. Well I love Williamsburg specially Bedford Ave area, and my dream is to be able to go to all the restaurants there lol. So I went to have dinner with my boyfriend , his son and his girl and before we head to Sweetwater restaurant I saw the American Apparel Store which had some signs of 20% off so we headed over to take a quick look and as soon as I got into the store i saw the beanies with the city name and promptly grab three of them to myself ( Then i gave one to my bf but I am pretty sure I'll be wearing it all the time lol. I was wearing all black, having on a shiny black legging from American Apparel and textured faux fur coat from H&M. And of course teh red boots from Toga Pula as a statement piece… So adding the London beanie in red and gray created the perfect accent piece on my head. After that we headed over for dinner…

Oi amores. Pra quem me acompanha no INSTA sabe que alguns de meus posts estão bem atrasados aqui. Estou tentando mas não conssigo deixar o blog em dias!! buáa buáá …. digamos que será um projeto para 2015… 🙂 Em fim mesmo assim quero dividir com voçês o look e dica de restaurante onde fui a 2 semanas atras em Williamsburg (Brooklyn). Eu estava acompanhada do meu namorido, do filho e da namorada dele e antes de irmos ao restaurante Sweetwater que super recomendo,  entramos rapidinho na loja American Apparel e dei cara me apaixonei pelas toucas com nomes das cidades. Tenho visto algumas marcas fazendo toucas com nome de pais ou cidades então com certeza será uma tendencia de inverno que ficará até o proximo ano. Fiquem ligadas… Daí escolhi tres 🙂 Como fui meio que gulosa acabei dando uma touca para meu namorado mas na verdade quem vai usa-la memso sou eu rsrsrs. Para o look do dia eu usei "all black"" Todo preto com legging que também pode ser para a academia com lycra brilhosa da marca American Aparel , blusa de lã preta e casaco de pele falsa lindo da H&M . As botas que estou amando é da Toga Pula comprada na NET A PORTER. Dai já coloquei na cabeça a touquinha cinza com vermelho (Londres) que encrementou o look perfeitamente. Bom logo em seguida fomos ao restaurante que ficava logo do outro lado…
Sweetwater has been providing the best in seasonal American bistro fare, fine wine, hand-crafted cocktails, and good times since 2004.
xxxxx
O restaurante Sweetwater é um bistrô Americano que muda seu carpdapioa  cada estação para melhor atender seu clientes e sair do marasmo… Tem uma  excelente carta de vinho e coqueteis especializados criados especialmente para o restaurante desde 2004.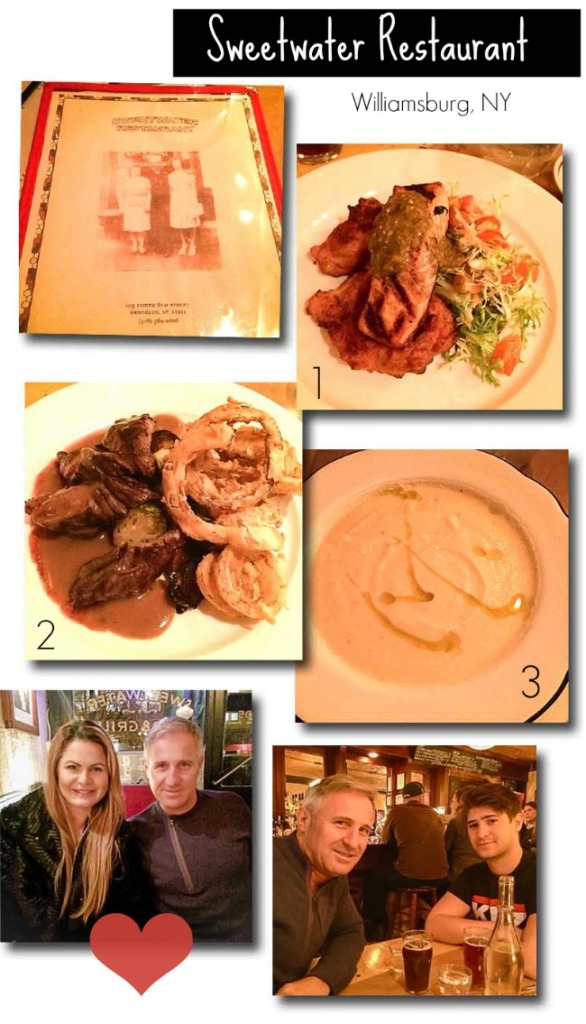 I can't remember details of what we ordered but I assure you everything is delicious. I started with a butternut squash soup (3) with truffle oil on top 🙂 Then I had fillet mion with some special sauce , and I think mashed potato and onion rings (2). My bf had the Grilled salmon crispy (2) on top and simply amazing while his son got a onion soup and some type of pasta with truffle oil as well ( I didn't take pictures).This was the third time I have been at Sweetwater. The ambience is Cozy and it has plush leather booths . You can see more details here :
xxxx
Gente eu náo lembro detalhes do nossos pratos mas eu pedi de entrada uma sopa divina (creme) de Butternut Squash (náo sei como se chama no Brasil) e por cima tinha fio de oleo de trufas que amo!! De prato principal pedi um filé que vinha com cebolas aneladas um molho mara e acho que tinha purê com a alho  emanteiga (desculpem, mas muitas coisas não sei como seria em Português…) // Prato principal do meu namorido foi samão grelhado mas uma perfeição pois era levemente tostado , crocante por cima  e tinha algo tipo risoto e batata mais a saladinha. O filho pediu monte de coisas mas só me lembro que era um tipo de pasta (massa/ macarrã0) que tinha oleo trufado. Em fim tomamos um vinho e tudo estava perfeito…Vale a pena ir em Williamsburg .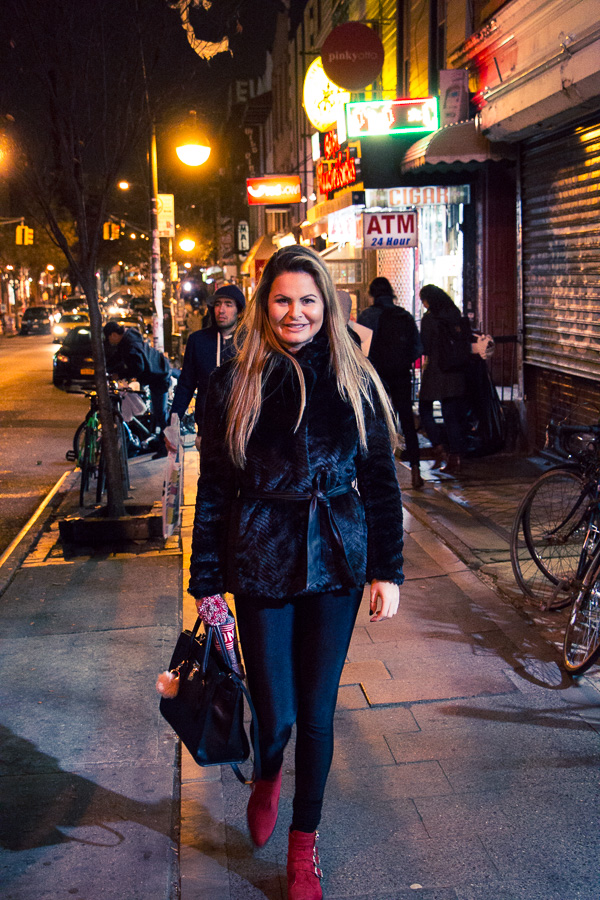 Outfits:
Legging: American Apparel  // Faux Fur coat: H&M  // Boots: Toga Pula ( Net a porter.com) // Bag: Michael Kors //  Hat( beanie): American Apparel
Night in Williamburg.. The Williamsburgh Savings Bank was an important institution in Brooklyn, New York, from the mid-19th to the mid-20th centuries. A series of bank mergers brought it into the HSBC group late in the 20th century. Part of the classical Revival architecture style
xxxx
Passeando pela a área vi o prédio do banco antigo que foi muito importante para Brooklyn da metade do século 19 at´a metade do século 20. Sua aqruitetura tem o estilo Classica Revivalista.