Jaqueta de Couro e vestido retrô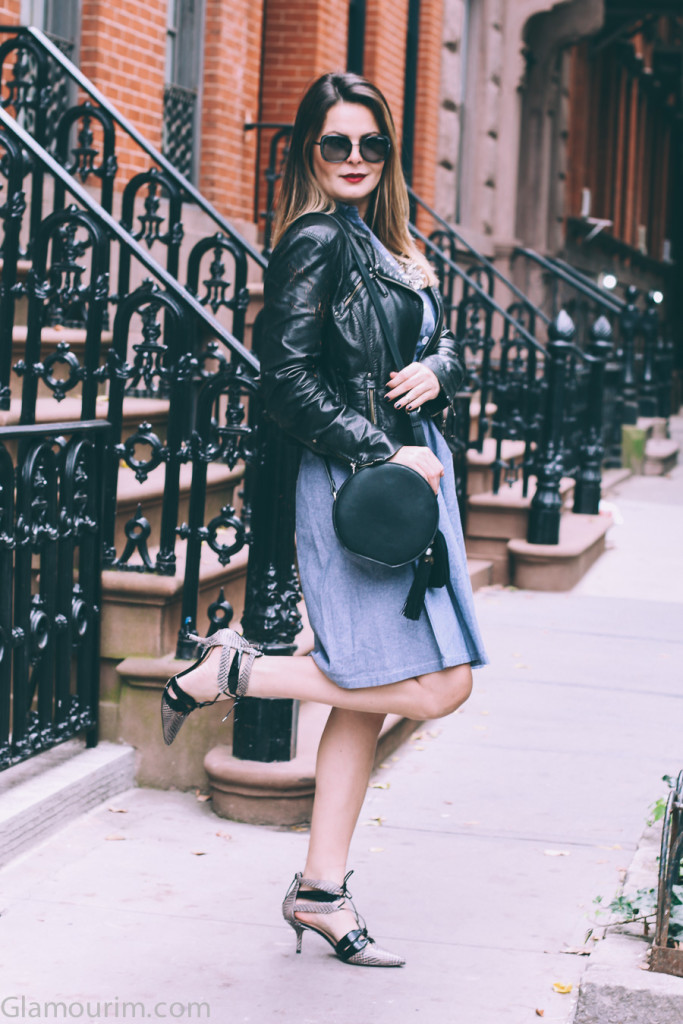 Happy Saturday everyone! Get ready to wear a leather jacket with retro dress. Today I am showing how to pull out a RockRetro outfit. If you want to add a edgy look to a lady like/retro dress,  top it with a fitted leather jacket like a did. This is  a perfect way to archive a RockRetro style as well put some spicy on a simple dress. I like mix in something unexpected, leather jackets are so handy and stylish and can be paired with different outfits and also keep you warm during cool day. I would suggest a cropped style so that it doesn't totally overwhelm your dress and still gives you a great contrast. My dress is from Shabby Apple, an online stores that creates beautiful apparel that is artful in design and feminine to its core.
If you are into retro, vintage, feminine style I'll be delighted by their design. I am wearing the model ''toe the line" dress. I hope you enjoy.

Olá amores. Passeio gostoso pelo West Villages aqui em nova Iorque e para o look do dia fiz uma misturinha inesperada usando uma jaqueta de couro sob um vestido estilo retrô e adorei o resultadp Rock-retrô. Amo jaqueta de couro , alem de ter um ar moderno e nos aquecer ela pode mudar o visual rapidamente. A jaqueta de couro é perfeita para compor quase que qualquer look. Sabe aquele vestido que parece que está esquecido lá no closet e as vezes o achamos sem graça ou que não está muito afim de usar? Ou voçê da de presente para alguem ou tir ele já do closet e usa com um coletinho jeans, ou lenço no pescoço caso o clima não der para usa-lo com jaqueta. Minha dica é usar a jaqueta "cropped" aquela que acaba na linha da cintura ou mais curta pois assim deixa o look jovial. Estou usando vestido estilo retrô da Shabby Apple , uma marca de Nova Iorque que cria roupas bem femininas voltadas para o estilo vintage, retrô. Espero que gostem.
Shop my outfit:
Dress: Shabby Apple: (here, similar here,  here, here ) // Jacket: Bebe (similar here, here, here) // Bag: Zara (similar here, here and here ) // Shoes: Zara (similar here, here) // Sunglasses: Vogue Eyewear ( similar here, here )
Thank you so much for visiting — Obrigada pela visita
XO

, H