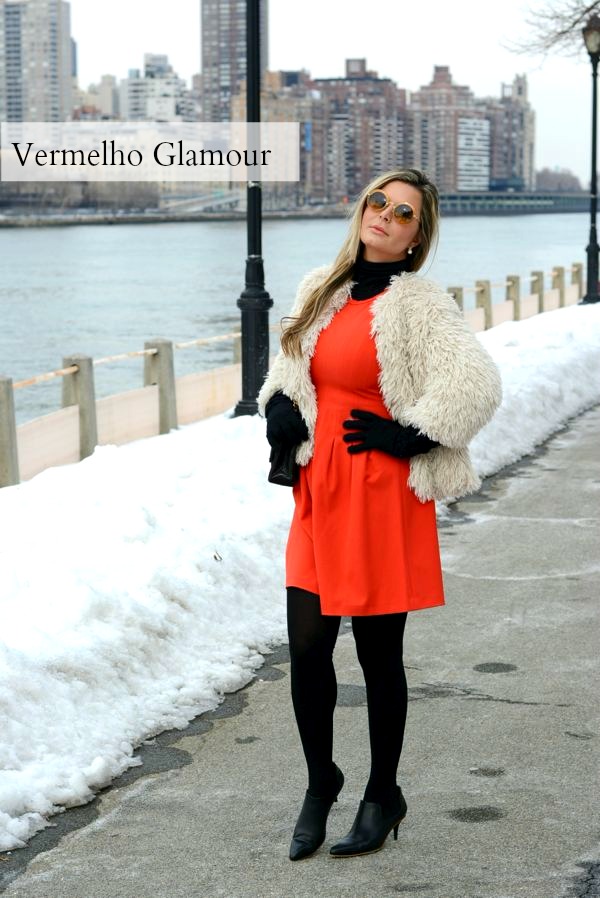 Spring has just arrived but we still have some cold days ahead. Now its time for the "transitional looks" until we finally be able to wear light jackets over the outfits.          I toke this pictures couple weeks ago as you can see there isstill snow on the ground but finally it was washed over. Great way to bit the cold is wear our dresses with a 2nd skin shirt and a thick hosiery. I added a faux fur jacket/coat to keep me warm and bring some glam to my lady like red dress.

A Primavera chega oficialmente no dia 20 de Março porem ainda tempos alguns dias de frio pela frente e enquanto isso ficamos fazendo aqules "looks transição" pois ainda não da para guardar todas as roupas de frio… Mas o pior mesmo já passou e agora falta pouco para podermos usas as jaquetas leves por cimas das roupitchas 🙂
Essas fotos foram tiradas a algumas semanas atras e como voçês podem ver ainda tinha neve amontoada nos cantos mas a chuvinha já limpou tudo e as ruas estão prontas para receber as flores da primavera. E neste look combinei um vestido lindo vermelho super feminino com os apetrechos nescessários para combater o frio. Eu amo usar vestidos nos dias frios e para isso uma meia calça mais grossa e uma segunda pele por baixo do vestido é o que ajuda a manter a temperatura do nosso corpo e da oportunidade de usar os vestidos durante o inverno e pra finalizar o look um casaco/jaqueta de pele falsa alem de esquentar adiciona um glamour a roupa.
Dress/ Vestido : H&M  Jacket/ Casaco; H&M  Shoes/ Sapatos: Zara  Sunnies/Óculos de Sol Miumiu  Bag/Bolsa: Chanel vintage at (yoogi' closet)