NYFW- Clutch Animal (Acessório do momento)

Happy Wednesday loves! Can't believe its already Fall. I am trying hard to change my outfit combo and starting wearing Fall pieces but I'll hold on to it as much as I can and still uses my light and bright Summer clothing creating a fall twist lol.
I want to share with you this outfit that I wore during The Fashion Week in NYC. I kept the color combination very matching and in the same family. As you can see my peach lace top get along with the blue of my Skirt, then I combined the blue shoes and Leopard print Clutch with my Illesteve shades that are also in blue mirrored lenses and leopard frame. I really like the final result 🙂

Oi meu glamoures! Boa Quarta-Feira pra todos nós! Neo acredito que o Outono chegou nos nossos calendarios Oficialmente! Claro que é a época mais linda em Nova Iorque mas isso também quer dizer que logo logo começará a esfriar e então vira um carro doido sem freios rsrsrs. Mas não vou abrir mão dos meus looks de verão ainda! Vou misturando com cachecois, jaquetas e por ai vai …
Bom Esse look de hoje foi un dos que usei na semana de moda de NY. E nesse dia eu coloquei algo mais normalzinho comparando com o look anterior que é classico mas os óculos de sol é modernex para deixar o look com uma pegada mais Fashion. E nesse look de hoje eu escolhi algo classico combinando apenas duas cores que são o pêssego e o azul e dai saí escolhendo acessórios na mesma família. Vejam que o sapato e as lentes espelhadas dos óculos são azuis e a bolsa assim como a armação dos óculos tem estampas de onçinha. Gostei muito do resultado. Vamos aos detalhes?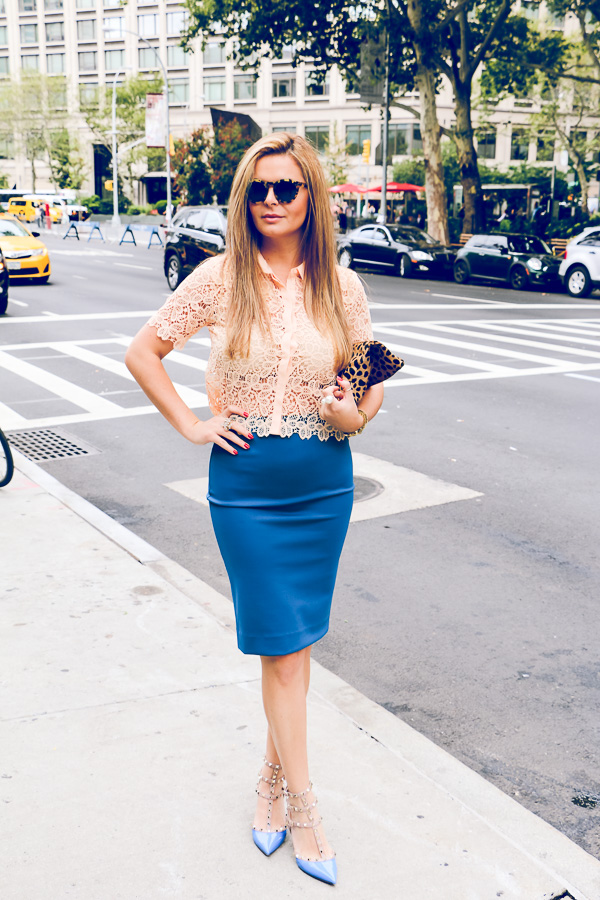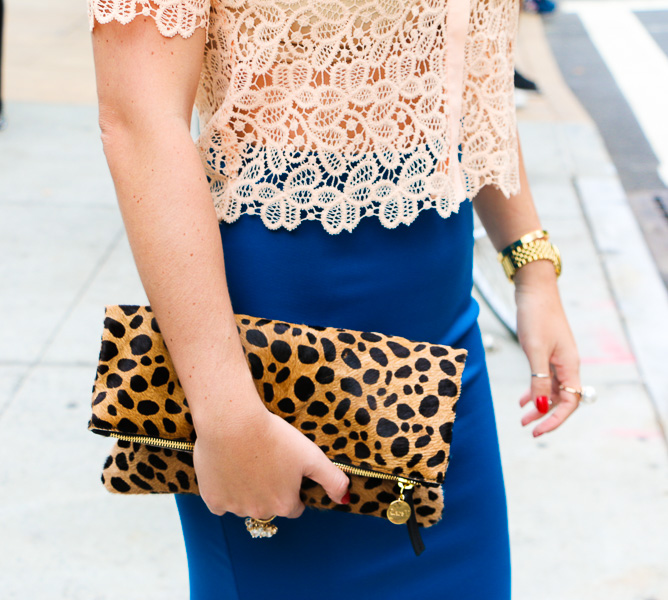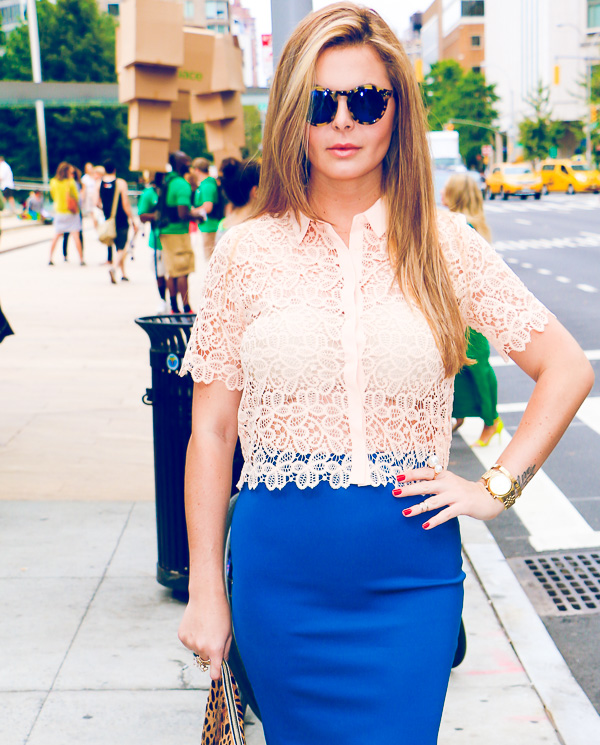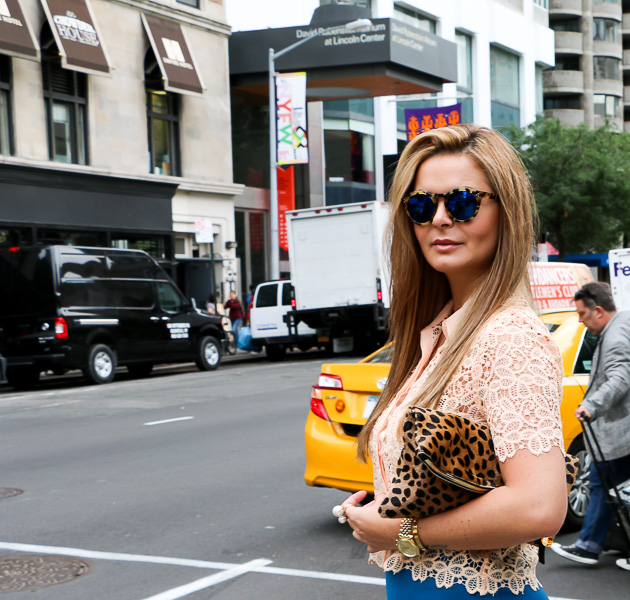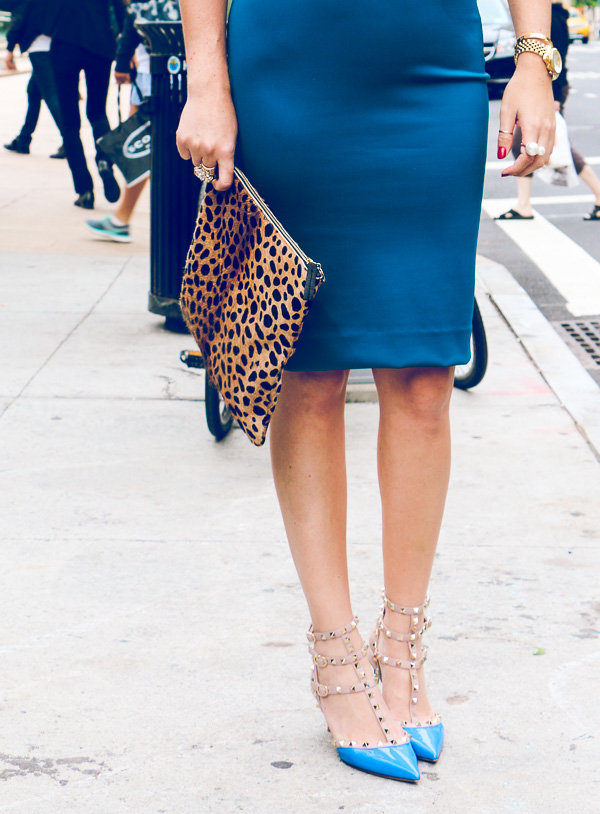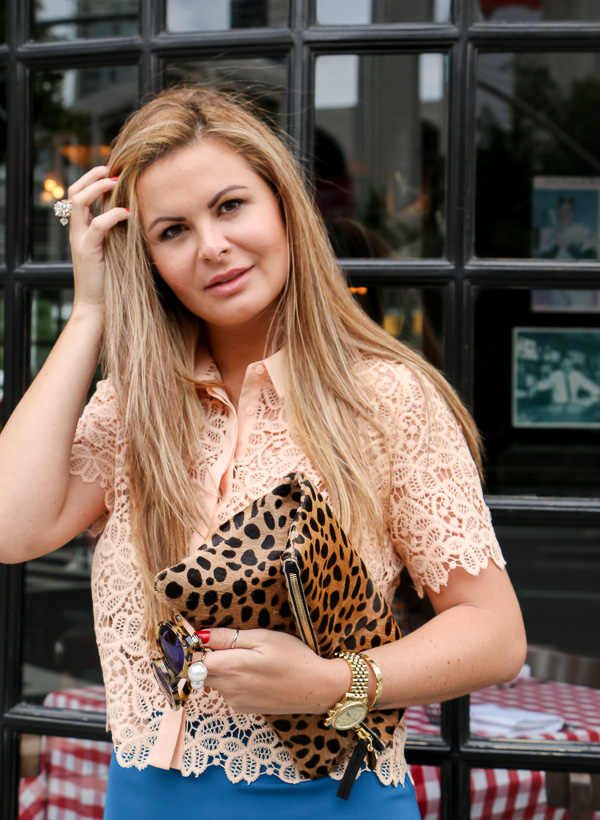 Skirt HM ( similar here , here )  //  Lace top Zara (similar  here)   // Clutch: Clare V (here)  //   Shoes: Valentino at Farfetch  //   Shades: Illesteva Leonard II
Thank you so much for reading — Obrigada por visitaar o Blog
XO

, H