REFIZ MEU LOOK PARA O ULTIMO DIA DO NY FASHION WEEK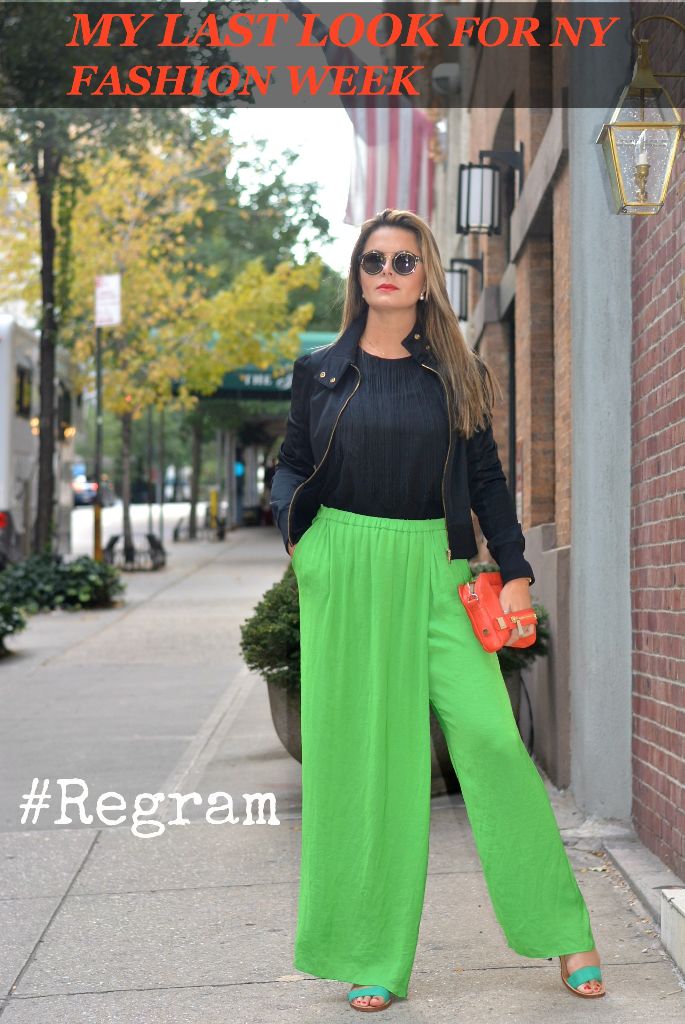 Hi Guys, Well I had post only two pictures of this outfit that I wore for the last day of NY Fashion Week 2 weeks ago… Damm. That day I didn't have time neither a friend that could snap some pictures of me. The weather was hectic and I ended up leaving my "look of the day" registration  for later. Since I really like my outfit I decided to wear it again and show you guys the combination. This time I added a black jacket and I think It loos even better so we have one more option 🙂   This wide leg pants had a rich and beautiful green color and when my legs are aligned together it look like a Max-Skirt. The fringe top from H&M only $9,99 was the big find and it part of the new Fall Collection.
———-
Oi gatinhas, bem eu ja tinha postado 2 ou 3 fotinhas desse look que usei no ultimo dia do NY Fashion Week porém como o clima naquele dia estava meio louco muito calor e depois muita chuva, além da pressa eu nåo tinha ninguem m por perto para registrar o look mais detalhado dai acabei deixando pra depois. Como eu gostei muito da combinaçåo e acho que tem tudo a ver com o clima Tropical do Brasil resolvi fazer fotos do look e postar aqui. Como o clima por aqui já está esfriando, eu adicionei uma jaqueta preta e achei que ficou ainda mais fashion. Portanto podemos usar esse look com ou sem jaqueta 🙂  Essa calça pantalona da ZARA  tem uma cor verde matavilhosa, ela tem as pernas bem largas sendo uma mais que a outra e quando estou parada com as pernas juntas ela da a impressåo de ser uma Max-Saia. Super elegante e classica pode ser usada para qualquer ocasiåo, só vai depender do que voçê colocar para compor o look. A blusa que estou usando é da coleçåo nova de Outono da H&M ela é tendência para nosso outono agora e futuramente no Brasil e custou apenas: $9,99 ACREDITAM?? åo sei se ainda tem mas vale muito a pena! Pra dar um ar fashion estou usando meu oculos redondo e modernex da Chilli Beans (marca Brasileira) e minha bolsa que amo na cor coral da Botkier.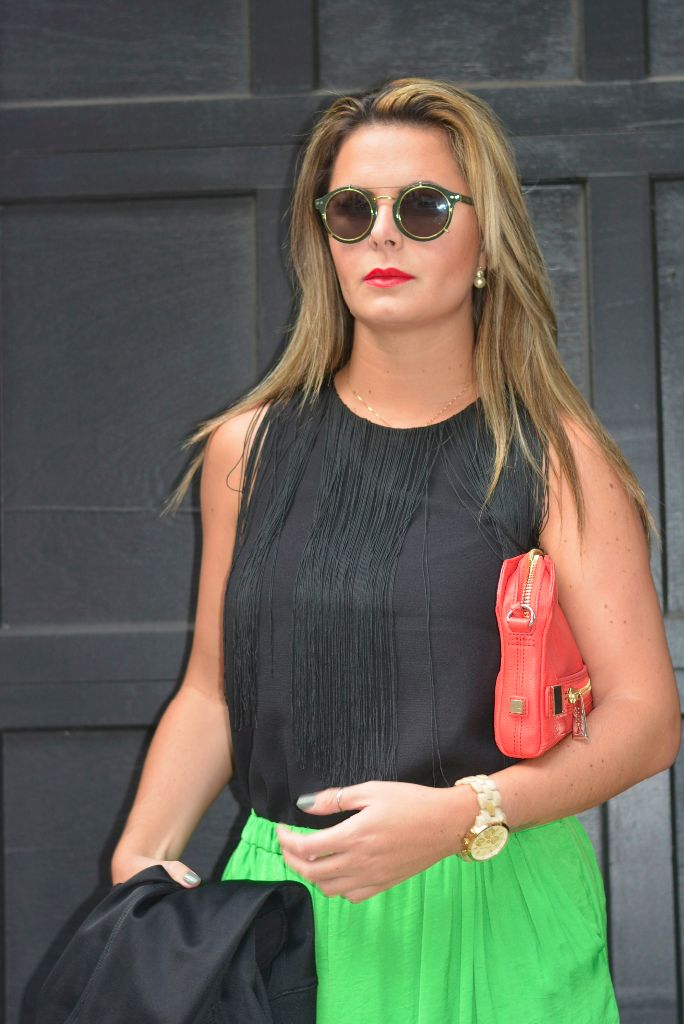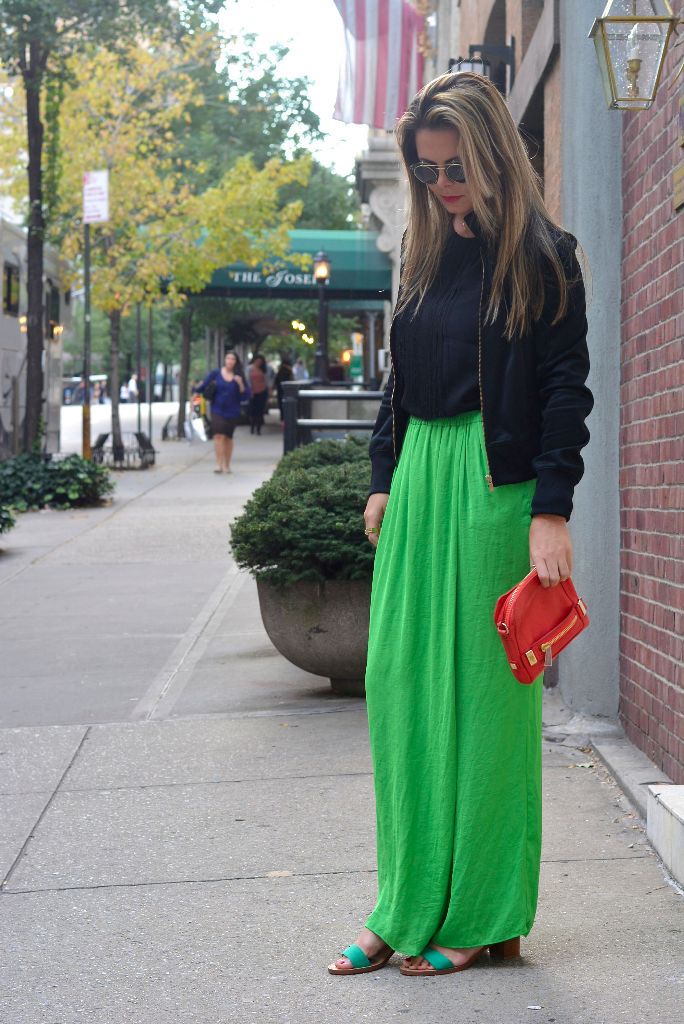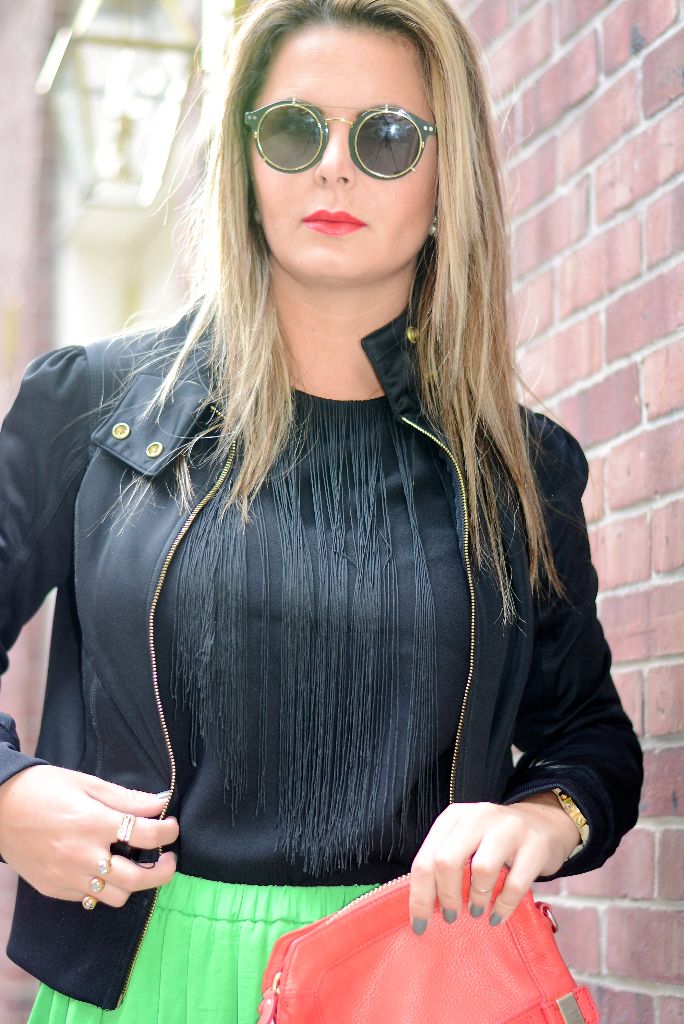 Pants/ Calça: ZARA   Shoes/Sandalias: Zara    Fringe Top/Top com franja H&M: SOLDOUT 🙁    Sunnies/ Óculos de sol : Chilli Beans (sold at Grand Central Kiosk)     Crossbody and clutch bag/Bolsa clutch: Botkier (Buy here)
Thank you for readin, come back BABE. xo, H
Obrigada por vistar meu blog, volte sempre 😉  bjos, H
♥