Tendência anos 70's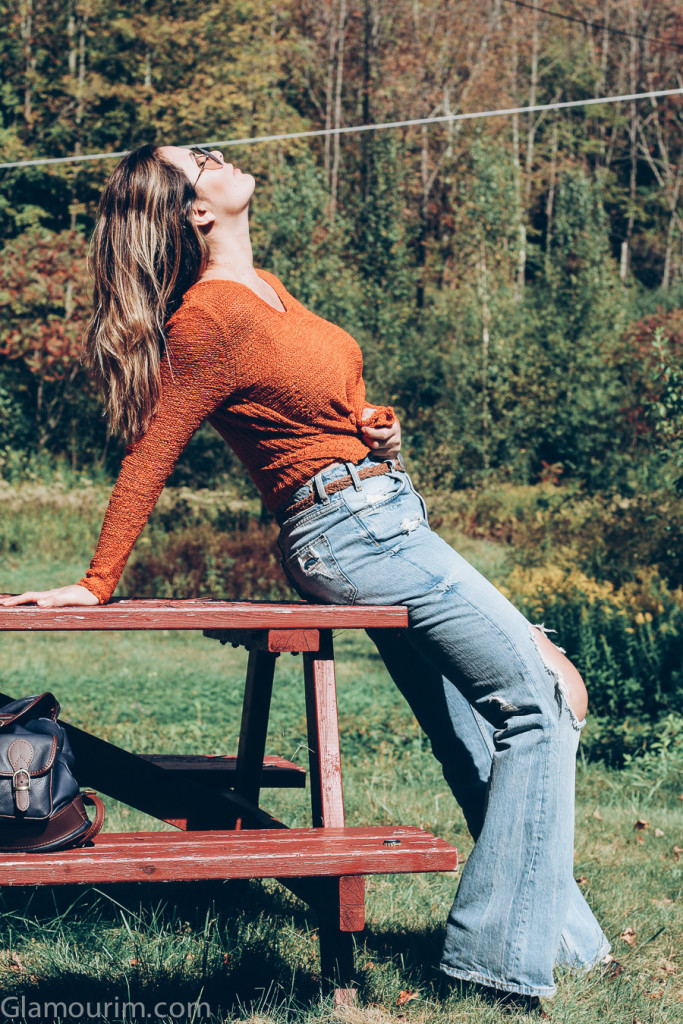 The '70s are back in a big way and today I am about Fall '70s style Fall outfit. Cheers to the jeans lovers because jeans have never truly gone out of fashion and we love the fact that '70s  flare and wide leg pants are back. I'd say that wide leg pants is definitely a key piece to archive an instant boho-chic look.  This Fall you pair your jeans with a oversize sweater and jacket! Its nice having the trend you never stopped loving coming back again.and I know it can be disappointing for short people (sorry about that) but flares are, quite simply, one of the world's greatest silhouettes and fits well a wide range of body.  The outfits our moms wore yesteryear are back this Fall 2015, we have seen '70s style inspiration every where from our Instagram feeds to the trendiest runways show.
It feels like a Woodstock flashbacks, and I am into nostalgic times. Aren't you? —  Fell free to add a little rock and roll to your wardrobe. Its a revival so you can style the way you want. 🙂

Oi amores! Meu look de hoje vem com uma pegada dos anos 70. Um brinde as amantes do jeans porque somos sortudas amar algo que não sai de moda e o vai e vem de certos estilos me deixa ainda mais feliz. As calças flares estam com tudo, é a volta da cultura hippie. A calça jeans flare é definitivamente uma peça chave para transformar rapidamente seu look em um boho-chic. Meu jeans rasgado com tricô oversized(folgado) super confortavel e estiloso.  As calças flares são simples e possui umas das melhores silhuetas vestindo bem a maioria da mulherada. Infelizente  não é uma peça almejada pelas baixinhas. 🙁
Eu curto um momento nostalgico, e tenho uma certa lembranca de quando minha mãe usava as flares e achava bem chic hahah. Aida temos muitas fotos de recordação. então acho bacana ver que os looks que minha mãe usava "ontem" estão de voltanesse Outono 2015e tenho visto esta tendêcia no instagram e nos desfiles de moda e "street style" looks.  Sinta-se a Vontade para etilizar sua calça flare com um piouco de " rock 7 roll" Voçê pode usa-la de formas diversas adicionando camiseta de algodão ou jaqueta ou casaco. É a volta do anos 70 em dias modernos então use a sua criatividade.
Same outfit with fur vest 
xxx
Mesmo look com colete de pelos para dias  mais  fresquinhos 🙂
Get the look:
Flare jeans : Zara ( similar here, here, here) // Top: H&M (similar here, here)  // Fur vest : (here, here, here ) // Sunglasses: Miumiu: (similar here, here, here) // Boots: Nina shoes (similar here, here)  // Backpack: I bought in Florence, IT (see similar here, here, here )
Thank you so much for visiting — Obrigada pela visita
XO

, H