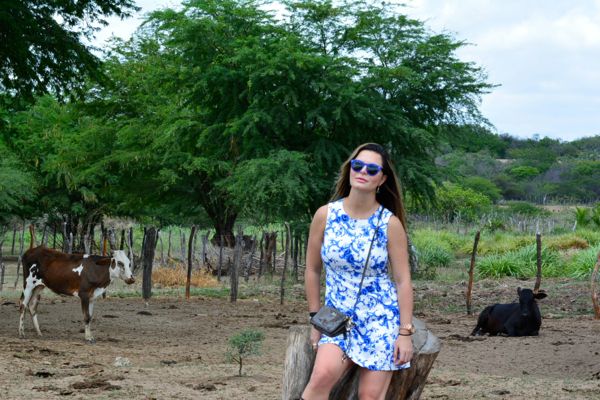 While in Brazil,  I went with mom all the way to the countryside to visit my relatives and explore some of the rural area that brings me such good memories from my childhood.  Itapetim, PE is the town were my parents came from. Its located in an area known as "The Sertão" a semi-arid region in the interior of Northeastern Brazil. It spreads over six states and has long been viewed by southerners as one of the most backward and hostile areas of the country. It is traditionally associated with drought, violence and religious fanaticism. For most of the past 100 years it has been under the control of coroneis, local political masters bestowed with all encompassing power. Before then it was divided into capitanias distributed by the Portuguese imperial rulers.
I went to my uncle's farm and got to hang out with the caws, chickens, pigs, donkeys, goat and other animal as shown on my pictures. I hope you guys enjoy ♥


Enquanto eu estava no Brasil fui com minha mãe até Itapetim-PE. Uma cidadezinha localizada no Sertão do Pajeú onde meus pais Nesceram e se casaram e onde tenho ainda parentes os quais fui visita-los. E aproveitei para explorar um pouco aquela paisagem e lugares de onde guardo grandes recordações de minha infância.  O sertão como todos sabem é uma área pobre e castigada pela seca espalhando-se por 6 estados do Nordeste. E Por mais de 100 anos era dominada pelos coroneis, e antes deles essa area era dividida por capitanias seguindo as regras do Império Portugues.
Lá tive a oportudade de passar um tempinho perto das vacas, galinhas, bodes, porcos e até do jegue rsrsrs . Espero que voçês gostem. ♥