Produto Soap & Glory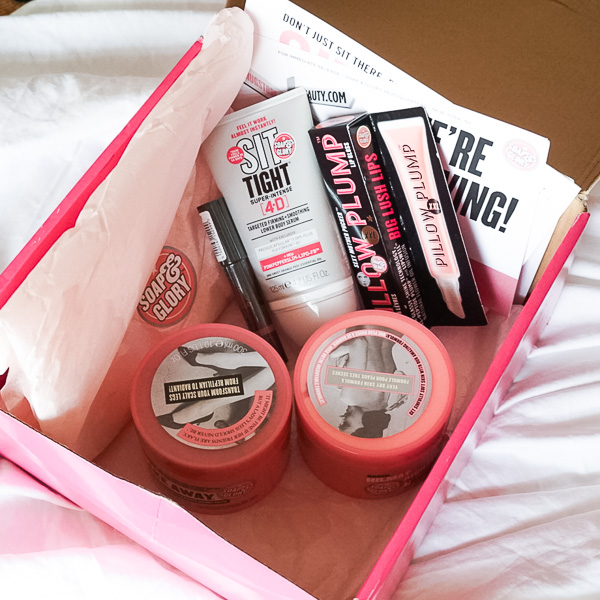 Hi everyone! Today I want to show the beauty box that I received couple weeks ago from Soap & Glory. These products are amazing and I have found a new love for a product, and I will definitely continue to use them once I finish, if not just for the scent alone! The ….. has a very similar scent to Miss Dior Parfum (which are one of my favs) . You can find Soap & Glory at Sephora stores and Sephora.com , Drugstore.com, Ulta.com , Skinstore.com and Soapandglory.com I also heard from a Sephora girl about a couple other products in their line that are amazing as well.  I will definitely be exploring this line further.   Soap & Glory formulates fun and fearless world-class products to give every girl "the best bang for her beauty budget."

Oi amores. Quero dividir com voçês alguns produtinhos que ganhei e estou amando da marca Soap & Glory. A linha de produtos é vasta e vale muito a pena conferir e arrematar alguns p[rodutos. Eu tenho milhares de cremes, maquiagem e estou sempre alternado para usa-los o máximo possivel mas confesso que esses produtos estão entre os meu favoritos do momento. O aroma é simplesmente delicioso, para voçê ter ideia o creme / manteiga corporal tem aroma bem similar ao Perfume Miss Dior. Sem contar a maciz que deixa na pele. com certeza irei continuar comparndo uma vez que meus produtos acabarem, só pelo aroma já vale muito a pne kkk. Logo acima no post escrito em Inglês estão alguns links de lojas que voçê pode comprar online. Recomendo também ir até uma loja fisica da Sephora assim voçê pode ve-los pessoalmente.
Love, love, love! Now I can tell that I have a really good body butter that actually does what it says it's supposed to do. This formula is the one geared toward really dry skin, I usually use it at night before bed time and my boyfriend loves it lol. The scent of this product is something I can't even describe, it smell fresh and clean (this is the one I mentioned that reminds me Miss Dior Parfum). It comes in a cute, round, pink container and the formula is a white creamy consistency that has a little bit of a cooling effect on the skin. My body still feels super moisturized hours after my shower! And the packaging is so adorable, it has a 40's vintage looking and they surprised me by putting my name on it!!!
xxx
AMO, AMO, AMO! Agora sim eu tenho uma manteiga corporal super hidratante e que realmente faz o que promete. Essa formula é super hidratante perfeita para pele mais seca ou durante os meses de inverno. No verõa eu uso a noite após o banho e meu namorado adora kkk. Meu corpo continua hidratado horas depois de usa-lo após o banho. Ah, e a fragrancia desse produto é algo que não cosnssigo descrever. Esse é o creme que comentei que a fragrancia lembra o Miss Dior. A embalagem é uma gracinha , rosa com pegada vintage anos 40 e o que amei ainda foi o meu nome que veio costumizado na embalagem 🙂
A skin-smoothing body polish made from shea butter, sweet almond oil, peach seed powder, sea salt, and sugar.
Those to are part of my body care routine, I also use on my hands too and I like to use the Body butter after that since they both have similar fragrance. No perfume needed after that treat 🙂 because this product smells heavenly! I love their signature scent and I'd describe it as fresh, summery, a bit of floral, sweet and musky at the same time which I really like. However, it could be a little too strong for someone who prefers subtle scents. It has large exfoliate granules , much thicker than the average body-scrubs and it dissolves and vanish on the skin while you massage helping to brush off the dead skin down the drain as you rinse off 🙂
My skin truly feels squeaky clean, smooth and hydrated every time I use it.
xxx
Esfolidor corporal já é parte da minha rotina de cuidados com o corpo. Também tem fragrancia maravilhosa, similar a do creme e sempre uso os dois e te ganranto que não é nescessário usar perfumes depois deles. E é uma excelente opção para esfoliar as mãos. Eu diria que a frangrancia é fresca, verão com toque floral, um pouco doce e leve aroma de almiscar. Acredito que quem gosta de aroma bem suave não vá gostar muito desse aroma pois pode achar um pouco forte, mas para mim é muito bom. Os granulos esfoliador sao mais grossos que os da maioria dos esfoliadores mas logo que começa a massagear no corpo eles dessolvem e desaparece removendo a camada de pele morta que logo desce de ralo a baixo uma vez que você se enxagua e o resultado ´´uma pele sedosa, limpa, hidratada e perfumada. Aconselho usar hidratante logo após que vocé se enxugar 🙂
A super-intense targeted lower-body firming and smoothing serum.
The packaging is great and you can feel it working right away. As soon as you put the product on you can feel a heating and tingling affect, some may find this uncomfortable but it is definitely NOT painful.  I had only used 3 times so I can't tell it really delivery what it promises. But As the packaging says, if you want to be toned you have to use this product in conjunction with exercise and eating healthy, you can't expect liposuction 🙂
xxx
Esse rodiA embalagem é bem interessante,  é um serum concentrado e promete deixar a pele mais firme e tonificada. Logo que voçê passa na pele uma leve sençassão morna com formigamento pode ser sentida mas nada exagerado ou desconfortável. Eu usei apenas 3 vezes então não posso dizer se realmente funciona mas assim como está escrito na embalagem, se voçie quer uma pele tonificada usar o produto e fazer bastante exercicio assim ele atua melhor. Claro que voçê não pode esperar uma lipoaspiração de uma produto para corpo kkk .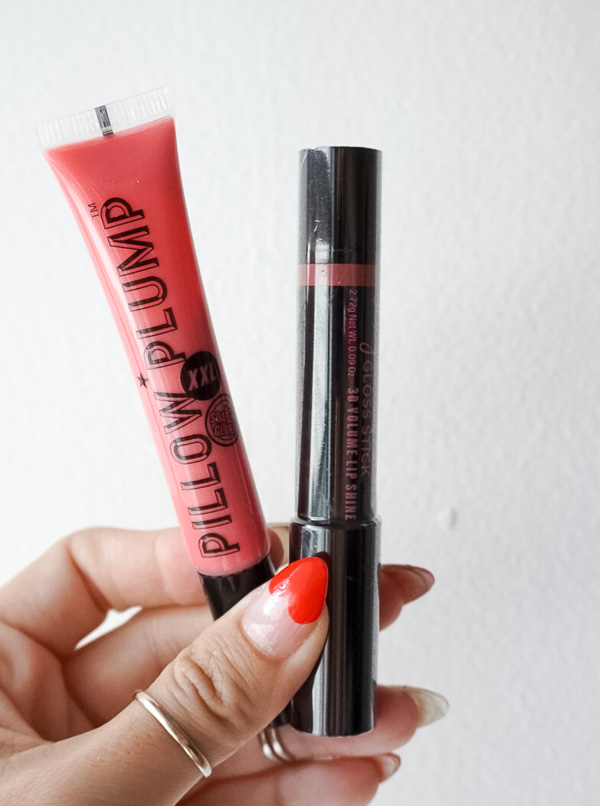 SEXY MOTHER PUCKER PILLOW PLUMP XXL GLOSS // SEXY MOTHER PUCKER GLOSS STICKER
It gives you a fuller lips, and  I like the tingling sensation. This bad boy almost burns your lips like a hot chili – but it's worth it. The super glossy formula that claims to help increase the skin's natural levels of hyaluronic acid (the body's own hydrating molecule) seemed to define the shape of my lips more, not just from the pigment. They also swelled a little bit in volume but nothing drastic.
xxx
Para almentar volume dos lábios… Deixa nos lábios aquela sençassão de formigamneto( dormente) e também esquenta, mas vale a pena. Sua formula é bem brilhosa de acordo o que li sobre seus ingrediente ele possui algo que ativa o nivel de ácido Hialuronico. Acho que define melhor o formato dos meus lábios,de de certa forma percebi um inchaço (almento do velume) mas bem pouquinho. Ah, e a pigmentação é um rosinha natural.
Sephora stores and Sephora.com , Drugstore.com, Ulta.com , Skinstore.com and Soapandglory.com