NY Fashion Week SS/15 Meu look dia:1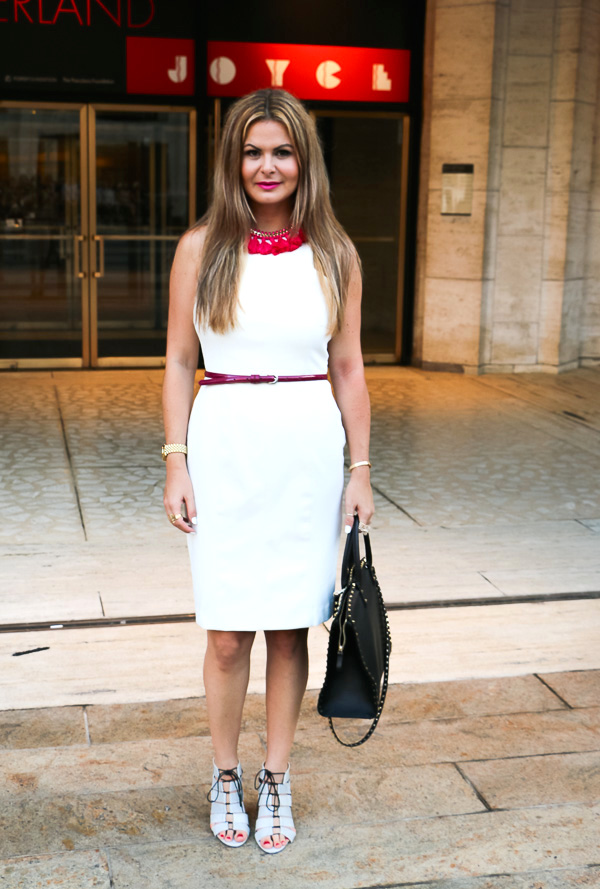 Hi everyone! I hope you all had a great weekend. Mercedes Beinz Fashion Week ended on Sep 11th and since I had couple friends visiting me from Brazil I got a really hectic schedule and unfortunatly I wasn't able to be updated with my posts ;( Ok shame on me… I highly recommend you to follow me on INSTAGRAM @GLAMOURIMBLOG OR ON FACECEBOOK : www.facebook/glamourim for lots of daily looks and inspirations as well beuty and lifestyle tips.
Well, for the day one I was brave enough to wear a white dress lol. I have a curvy body and withite outfits can make we look fat to fatter… I made sure I had my waste line marked so I used a thin pink belt that matched my pink tassels maxi necklace and my Lipstick. On my nails I had OPI Snow White nail polish.

Olá voçê que voltou para ver o blog

espero que tenha tido um final de semana supimpa ! Quem me acompanha no INSTAGRAM @Glamourimblog ou no FACEBOOK www.facebook.com/glamourim está sempre por dentro do que acontece no meu-dia-a-dia e também viu que de Setembro 4 até 11 foi a seman da moda aqui em Nova Iorque. Recebi 2 pessoas muito especial que vieram do Brasil para o Fashion Week que foi a minha amiga do peito Ariana @senhirashoes e a Carkinga @partystyle_ Minha vida ficou bem corrida e por isso não tive oportunidade de colocar os looks aqui durante o fashion Week… Apesar da tendência de moda que os estilistas criam e mostram lá dentro do shows é do lado de fora do Lincon Center (onde acontece a maioria dos desfile) e nos sites dos fotógrafos de "street style" que fico com os olhos bem abertos para ter inspirações nos looks e detalhes que mais gosto. Geralmente as BLOGUEIRAS e pessoal ligado a moda ditam uma nova tendência que será muito usada no "street style". Aqui vou mostrar um pra vocês o Look que usei no 1° dia.
Fui bem corajosa e usei um vestido branco rsrsrs como sou alta e tenho corpo com curvas etc eh um perigo usar este tipo e cor de vestido porque pode dar aparência de "maior"

marquei a cintura com um cinto bem filhinho na cor pink combinando com meu colar de franjinhas e com o batom Pink Chock da NYX. nas unhas Esmalte branco (também tendência) da OPI finalizei o look com sandálias salto medianos em pronto e branco e bolsa Oreta com tachinhas da Valentino. Vamos aos detalhes?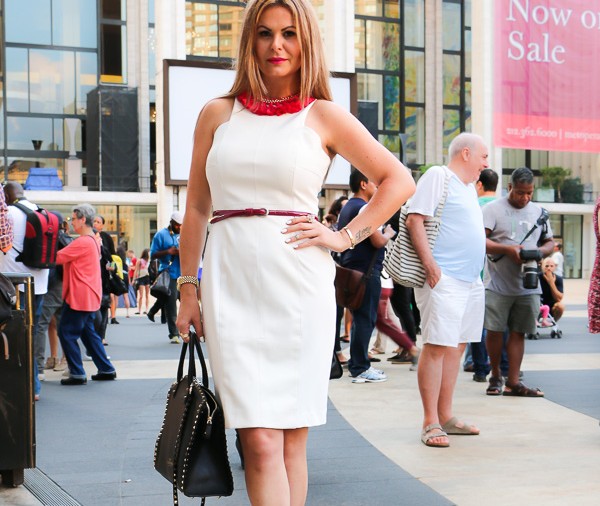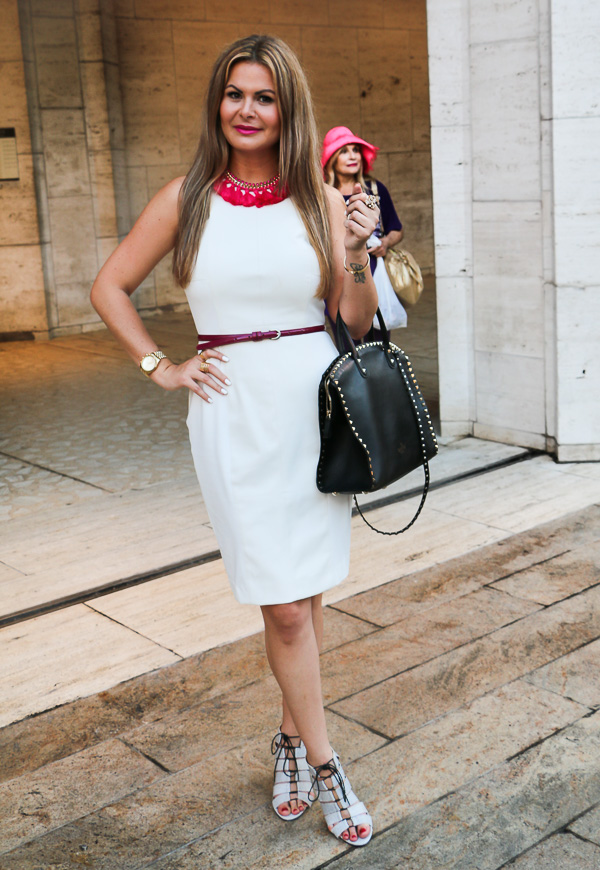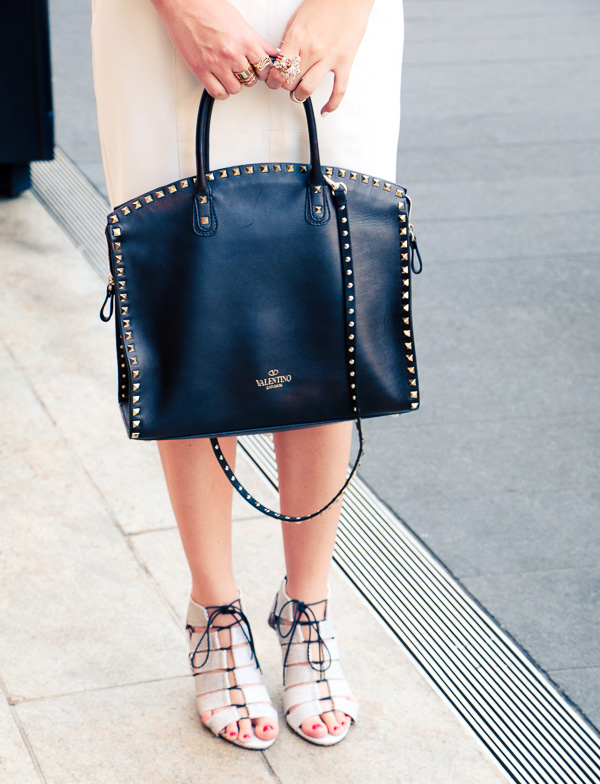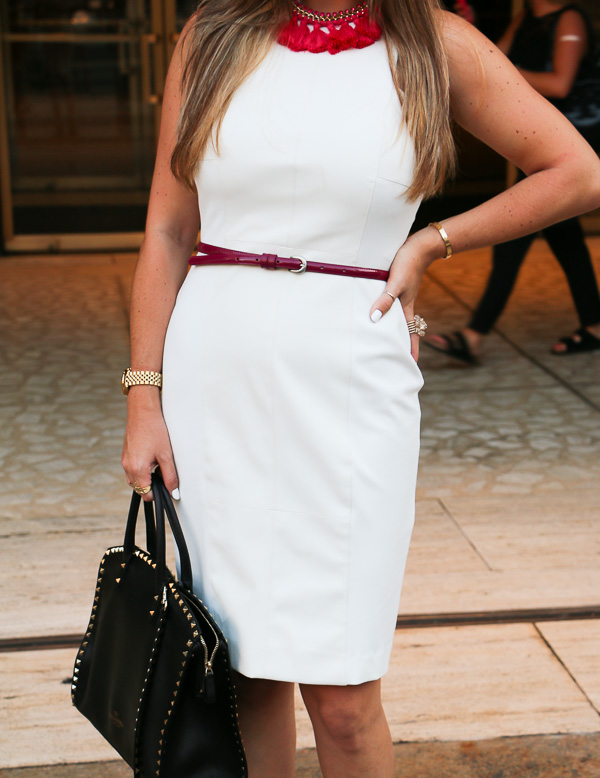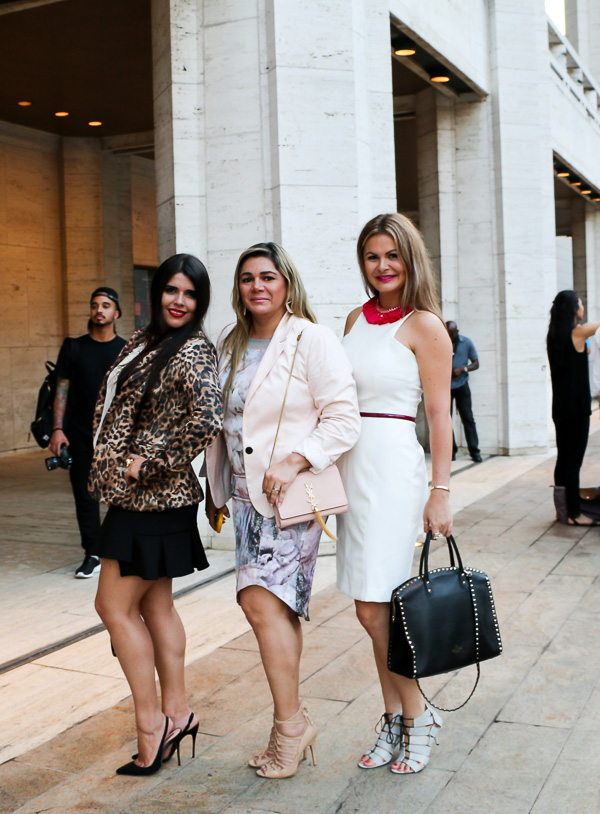 Above the Brazilian Instabloggers Ariana from @senhoraashoes and Carla Almeida from @Partystyle_
My outfit Details:
Dress: Zara // Necklace: H&M // Handbag: Valentino (Farfetch.com) // Sandals: Loeffler Randall
Thank you so much for reading — Obrigada por visitar o blog
XO , H